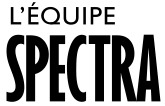 Équipe Spectra Privacy Policy
This privacy policy applies to data collected during the set-up of user accounts and subscriptions for the Spectra Newsletter and contests on Équipe Spectra's websites (all websites belonging to Équipe Spectra, created or to be created, are hereinafter referred to as the "Sites"). When you visit these sites and submit personal information during user account registrations, or subscriptions to the Spectra Newsletter and contests, you are accepting the practices as described below. The last update to this Privacy Policy is dated June 30, 2014.
1. How We Protect and Use Your Personal Information
1.1 Respect and Protection of Your Privacy
L'Équipe Spectra takes matters relating to the transmission of personal information on our sites seriously and it is our duty to ensure that your privacy is respected and protected. That's why it's important to us to explain how we collect information, what type of information is collected, and why. Rest assured that no personal information is ever collected without your consent.
1.2 Protection of Children's Privacy
Our website is intended for the general public and we do not knowingly collect personal information from children under the age of 13.
2. Gathering Information
2.1 Types of Information Collected
L'Équipe Spectra collects two types of information: personal information and anonymous information.
2.1.1 Personal Information
Personal information is any information used to distinguish and identify a person (name, email, user ID, preferences, location, etc.).
2.1.2 Anonymous Informatio
Anonymous information is any information on the browsing habits of a person that does not allow name identification (browser type, pages visited, number of clicks and visits, IP address, etc.).
2.2 Mechanism of Data Collection
2.2.1 eForms
At the registration of your user account, your personal information is collected by an electronic form available on our sites and is stored in your user account.
2.2.2 Cookie
When you log on the Spectra Newsletter site, e-mail is saved by a "cookie" to facilitate your browsing. This cookie expires when you close the browser. Cookies are small text files stored by the browser on your hard drive used to store information about your browsing preferences on the site.
2.2.3 IP Address
When you visit our website, we collect information from your browser (IP address, type and language of your browser and website addresses from which you have been redirected to our Website), for statistical purposes. This information is anonymous.
2.2.4 Detection of Email Openings
Our newsletters contain a "pixel count", to track the number of times an email is opened. This information is collected in order for us to customize the services we offer and to help us evaluate the overall effectiveness of our activities. This information is anonymous.
3. When is Information Collected?
3.1 New User Account, Spectra Newsletter and Contests
When you register for a user account, the Spectra Newsletter and online contests, information is requested through a form on the screen. This information is saved and kept in your account.
3.2 Account Modification and Deletion
At any time, you may access, correct or delete personal information directly from your user account or by contacting us at: [email protected]
4. Why Collect this Information?
4.1 Dissemination and Services Tailored to Your Preferences
Personal information collected with your consent on the sites allows us to tailor content to your preferences. The information is anonymous and helps us to get a better sense of our users' habits and interests, in order to better adapt our services and means of communication.
4.2 Transmission of Data
L'Équipe Spectra agrees to not share personal information to any third party without your consent or insofar as such transfer is permitted by law. However, we may be required to share personal information to a service provider or a subcontractor when intervening in our various sites' maintenance. The latter must then sign an agreement respecting information confidentiality, and use it only for the purposes for which consent was given by the user.
We hope that this document has thoroughly informed you on our strict privacy policy. At any time, Équipe Spectra reserves the right to change its privacy policy.
If you have any questions regarding this privacy policy or other practices relating to Équipe Spectra's various sites, you may contact us at: [email protected]
L'Équipe Spectra.
© 2018